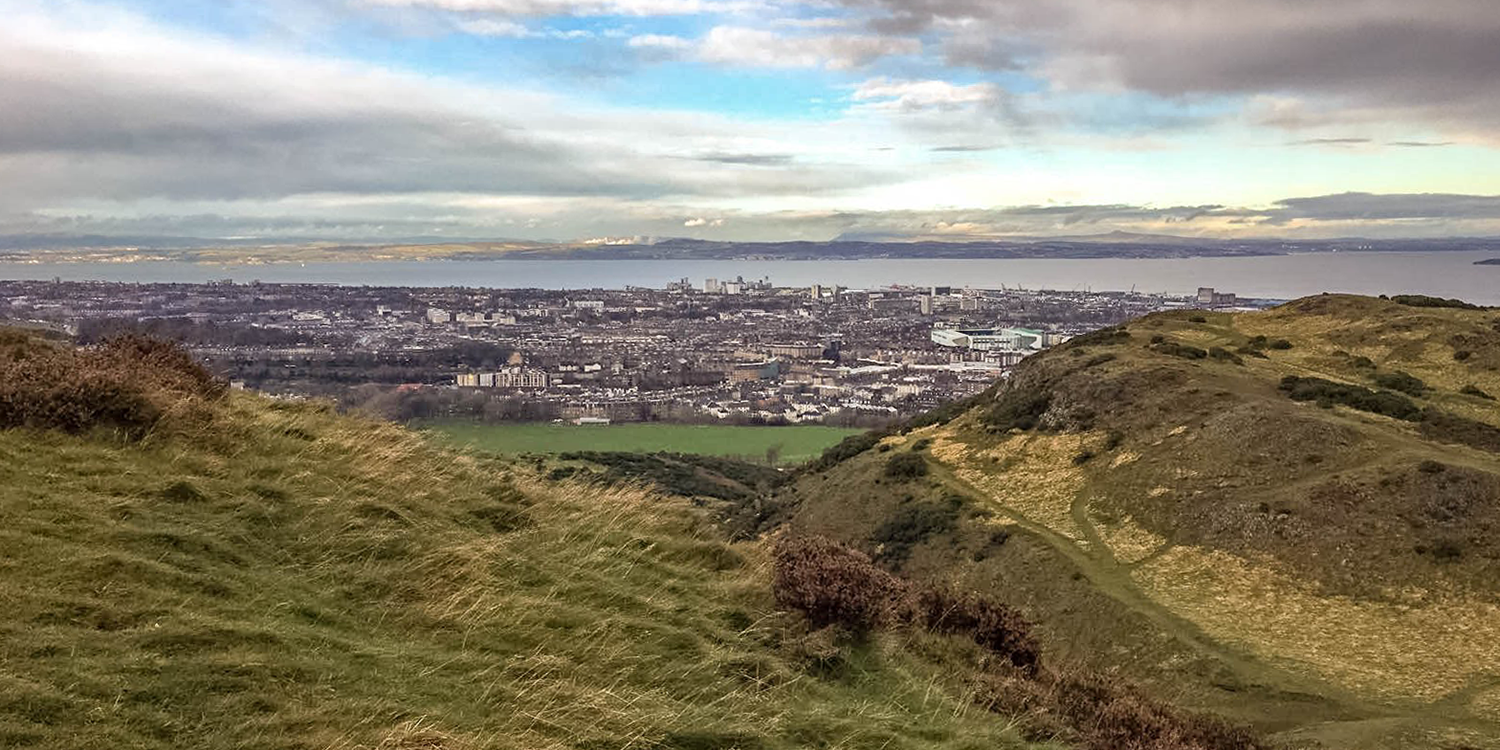 03 Jan

Expectations vs. reality

Blog by Rosa Schavione 

Walking past one of the many souvenir shops in Grassmarket, Edinburgh, I could hear the thudding sound of something that can only be described as dance bagpipe music. If the cashmere sweaters and tartan fabrics filling the shop windows of the highly touristic street did not already give away that I was in Scotland, this terrible yet catchy mixture of music genres definitely would.

It was also a nice introduction to the subject of my first field trip for the Worlds of Imagination project and with that, my first ever experience as a researcher in the field. Focusing on Danny Boyle's film adaptation(s) of Irvine Welsh' Trainspotting, I set out to explore the different representations of Edinburgh in film tourism to pivotal Trainspotting locations, from the iconic sprinting scene through Old Town to Arthur's Seat in Holyrood Park which was featured in the 2016's sequel T2. During this exploration, which took place a couple weeks ago, I did not find any conclusive answers that could answer my research questions definitely. However, in hindsight, I could not help but notice a particular duality that seems to mark my first experiences of field work; the well-known expectations versus reality dichotomy.

For instance, in the first few months of my PhD trajectory I made a schedule with deadlines for my first case study. According to this schedule, I should have been finished with collecting data and making a start on my analysis at this very moment. Yet here I am, still in the phase of changing my research focus and altering my framework appropriately. It is safe to say that my expectations were overly ambitious. Unrealistic, one might even argue. In a similar vein, I went to Edinburgh with a plan, expecting to focus solely on Trainspotting, talking to Trainspotting fans and tour guides. Faced with the reality of it, I saw how Trainspotting seems to be part of a bigger assemblage of media narratives set in Edinburgh, which appear to be coherently deployed by local and national tourist organisations in attracting domestic and overseas visitors to Edinburgh [see VisitScotland's Film map]. This instigated me to think about the role of these different, often contrasting narratives, from Trainspotting to Cloud Atlas to One Day (interestingly enough all film adaptations of novels), how they interrelate in constructing the identity of Edinburgh. And just like that, I stumbled upon an alternative worth investigating.

There is a parallel to be found in the phenomenon of film tourism itself. Previous scholars on film tourism have written about the exact moment in which the film tourist sees the place that was featured in their beloved series of film with their own eyes for the first time, i.e. the clash (or in a more optimistic instance, convergence) of the diegetic or textual world with the material one. Tourists and fans alike generate different responses to this encounter, such as appropriating the reality of the place into their understanding of the film or series ("making it their own"), or, as the other side of the coin, challenging it. As I was climbing Arthur's Seat in Holyrood Park, a somewhat oddly situated but nonetheless wonderful hill very close to the city centre, I found myself in the second category; it was difficult for me to picture the hill as the place where Renton and Spud shared a moment of reflection in T2 as it was rainy and crowded that day, unlike in the film. Likewise, with chain stores like Marks & Spencer filling up the street and masses of people shopping, it was tough imagining Princess Street as the site where our "heroes" memorably run to Iggy Pop's Lust for Life.

Although these reflections have not brought me any findings, they did lead me to some interesting insights which I have come to value. With the fear of exhausting the theme of parallels, similar to how film tourists are able to "appropriate" sites, adapting themselves along the way, I am appropriating what I have found the past couple of weeks into building and adjusting my research accordingly. Moreover, being confronted head-on with my own double role of researcher and film tourist/fan has made me more aware of my own presence in this research and the implications of that. It is with these new understandings that I am joyfully planning my second fieldwork for the new year, prepared with a fresh round of altered expectations, openness and most importantly, adaptability.