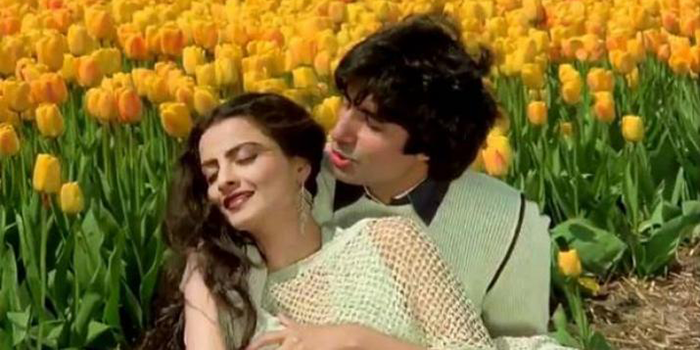 12 May

My Tryst with the Tulips

Blog by Apoorva Nanjangud

The fact that Bollywood cinema has a wide reach globally is a well-known one. A person like me, who consumes Bollywood in good amounts, and now lives out of India, is able to experience firsthand the extent to which Bollywood has had a significant impact across the world. On some occasions, its presence is felt rather strongly.

The other day- I took a day trip to the Keukenhof Tulip Gardens to- let's say- keep up with the tradition of "every-Indian-in-Holland-must-go-to-Keukenhof". As expected, not only did I find Indians in plenty, but their sentiment about visiting the Silsila gardens was very evident even decades after the Dutch tulip bloomed on the Indian soil. That had me thinking about how films keep thriving around us way past their screen time and how various associations aid the longevity of certain films. In this case, I had to think of Bollywood's association with a flower garden. A parallel thought I had was about the practice of filming Bollywood songs abroad, while rest of the film is set on Indian ground.

Silsila (A Series of Events, 1981), a romantic drama set between Amitabh Bachchan, Rekha and Jaya Bachchan, was one of the biggest blockbusters of the commercial era of New Bollywood in the 1980's. While most of the film was shot in various studios and locations in India, the iconic song "Dekha Ek Khwab" ("I Saw a Dream") was partly shot in the Keukenhof Tulip Gardens, near Lisse in The Netherlands. Was it the location or the song itself that created a frenzy amongst audiences to strongly desire being in the beauteous Tulip fields at a destination thousands of miles away from where they lived, is a question that remains unresolved until this day. Keukenhof then also played host for another Bollywood movie, Hello Brother, however, the impact of Silsila remains a cornerstone in the garden's association with Bollywood.

What is most interesting to me is the fact that the frenzy remains so prevalent amongst the (Indian) audiences who still associate this garden with this film and travel in huge numbers just to experience the location in person. Apart from the large number of Indians traveling to Keukenhof, what is telling of this impact is how people dressed up similarly to the iconic duo of Rekha and Amitabh just to be able to recreate their onscreen moments in a photograph.

While wading through the humongous tulip fields, I asked myself many questions- What makes some places so significant to some people, and not so much to the others? What makes some places stand the test of time and continue to be of significance year after year? Do cinematic associations assign more value and longevity to certain places? Of course to unravel these questions requires good amounts of research into film, tourism and their interplay. This project on Bollywood Tourism that I undertake is a step in that direction.

As one can imagine-songs, are an indispensable part of any Bollywood movie narrative- to the extent that songs become the unique selling point of films and ensure they stay viable for years. A striking feature which gained prominence also in the later eras of Bollywood cinema, was the practice of shooting just the songs on scenic locations abroad, while the rest of the film had absolutely no connection to the foreign locations. "Dekha Ek Khwab" is one such example, where just the song sequence boosted audiences imagination towards a faraway land. It created curiosity and longing which continues to attract the film-tourists to visit the tulip fields at Keukenhof. At the same time, such numbers are also looked at as a fruitful enterprise towards boosting the film tourism economy.

In my next case study, for which I begin fieldwork in August, I explore how a songs' popularity creates an explosion of tourists traveling to a certain destination. This research focuses on the case of the song "Gerua" ("Saffron") from the film Dilwale (People with Hearts, 2015) and how it has created a superfluous and rapid flow of Indian tourists to Iceland. I look at it as a new wave of tourism unleashed by Bollywood cinema, after the tourism boom to the Swiss Alps post the 1995 release of Dilwale Dulhania Le Jayenge (1995). interestingly, Dilwale happens to be a remake of Dilwale Dulhania Le Jayenge, and that adds an interesting layer to my investigation, as to how two films 20 years apart, with the same star-cast, possess the ability to make people cross borders chasing similar cinematic experiences. Undoubtedly, Bollywood tourism has many such questions and layers waiting to be unraveled!