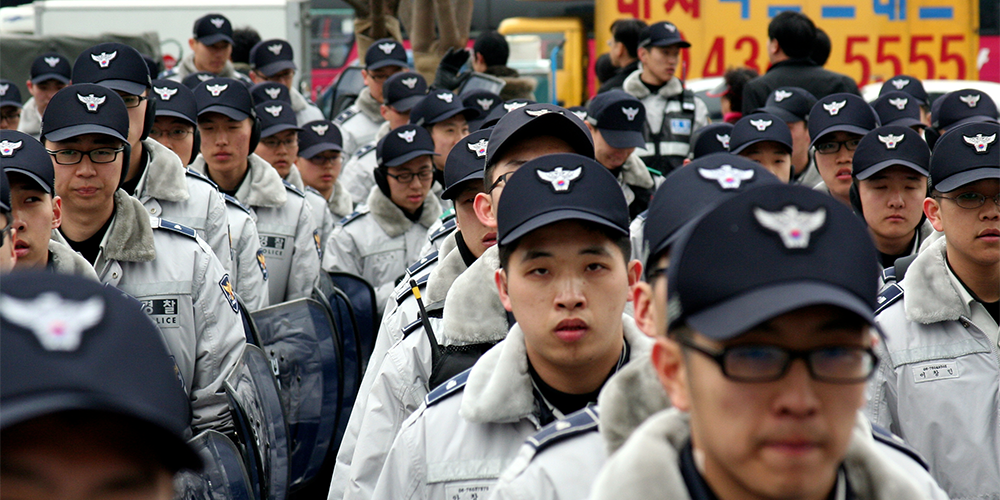 24 Nov

Occupy Television: 'Live', A Police Drama after Street Protests

Blog by Henry Chow

How do you go back to trusting police in uniform after they have beaten you up? The question lingers as citizen protests disperse and protesters return to their normal lives as citizens. Countries in East Asia that have seen a surge of large-scale protests in recent years, such as Taiwan, Hong Kong and South Korea, are still grappling for an answer.

2014 was a year of direct action in Taiwan and Hong Kong. In March, Taiwanese protesters occupied the legislature and rallied outside on Ketagalan Boulevard, to thwart an attempt by the ruling KMT party to rush through a new trade agreement with China. Over a month's time, the protest became known as the Sunflower Student Movement and secured concessions and promises from the KMT as it ended the occupation of the Legislative Yuan.

Later in the year, protesters in Hong Kong also laid claim to the streets after police's use of tear gas galvanised support for pro-democracy activists. Umbrellas that protesters use to block pepper spray became the symbol for the movement. Barricades sealed off sections of public roads for a total of 79 days, and 'tent villages' evolved as protesters brought more and more of their everyday lives into the occupy zone. The protests, however, yielded little visible political gains, leaving behind a sense of loss and powerlessness.

Fast forward two years, South Korea was rumbling in the wake of revelations about corruption and undue influence in close circles around President Park Geun-hye. Most visibly in the boulevards between Seoul's City Hall and Gwanghwamun Square, anti-Park protesters gathered every Saturday like clockwork over the winter of 2016. The sea of candlelight, among which the protesters sat, became another symbol of citizen direct action in East Asia. Park Geun-hye was ultimately impeached by lawmakers in March 2017.

In South Korea, the protests of 2016-17 harked back to democratization protests in the 1980s, a decade which saw bloody suppressions of calls for democracy by the US-supported dictatorship. Stories from the 1980s are painful memories for many South Koreans, but the acts of heroism from the period are also rich material for popular Korean films. The Attorney (2013), A Taxi Driver (2017), and, most recently, 1987: When the Day Comes (2017) show how this page of South Korean history, once considered too political by investors, has been a hit with cinemagoers who are currently also living in a time of direct action.

Interesting for the media scholar in me, is the fact how these media products do not stop at national borders. In Hong Kong, where Umbrella Movement supporters face judicial prosecutions and new restrictions to political rights, South Korean movies about the democratisation struggle have been presented to cinemagoers under a single 'brand': the 'Against Tyranny' (or 'Against Power') trilogy. The Chinese translated titles for the three movies read: The Attorney Against Tyranny; The Driver Against Tyranny; 1987: Citizens Against Tyranny.

But while in Hong Kong protesters and the government still stand on opposite sides of barricades that are no longer there, in South Korea political power has changed hands, and thus, time is ripe to answer the question I asked at the beginning of this post: How do you go back to trusting police in uniform after they have beaten you up?

The answer of screenwriter Noh Hee-kyung, who witnessed the massive anti-government demonstrations that swept the country a few years ago, is to write a television series about it. As she explains to the media:

"Looking at the police making a human barricade in front of me, I wondered if these people really wanted to be here. I stumbled upon them again squatting and eating meals behind police buses. They didn't make eye contact with the protesters."I started to wonder why they were there and who ordered them to be there … While doing some reporting for a possible scenario, I learned that they were just doing their job like I do as a writer. They have no choice but to do their job … They called themselves human shields at the front line." (Source: Yonhap News).

The K-drama series she got to write is called Live (2018), a rookie police drama that follows new recruits through the training academy to their first posting in a local police station. In the characteristic K-drama way, it is heart-warming as well as heart-wrenching, luring viewers to take the place of these police rookies, who at some point question (but ultimately execute) the violence used on peaceful protesters.

In Hong Kong, Live has the translated title of The Rookie Small Potato. Unlike in South Korea, the link of the police drama to its treatment of citizen protests is much underplayed in Hong Kong. Instead of 'Against Tyranny', the drama was given the label 'The Rookie', placing it in a long line of police newbie comedies. The good intentions of screenwriter Noh are left only to dedicated viewers who stake out the whole series, rather than the casual audience. Reconciliation between the police and the citizenry does not seem to be on the cards as yet.