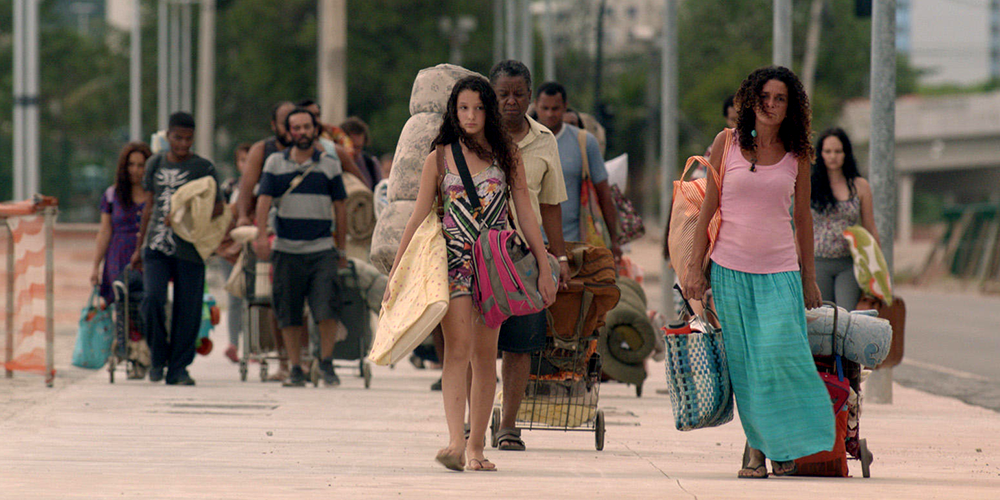 11 Mar

A Poetic Perspective on Rio's Favelas and the Olympic Backlash

Blog by Débora Póvoa 

Studying the Brazilian favelas while being based in Rotterdam can sometimes be quite challenging. Until I go on my next field trip in April, I try to overcome the distance with all means I have at hand, but the "fear of missing out" is always present. I ask friends about the current state of affairs in my home town, Rio de Janeiro; I read everything I can find about these territories; I contact my sources when I see their neighbourhoods on the news. It is always an active pursuit to remain connected and up-to-date with the recent developments in the favelas – as it should be, of course – but I often wish I could be closer. So one can imagine how thrilled I was when I found out that the International Film Festival Rotterdam (IFFR) would host the world premiere of Sultry (or Mormaço, in Portuguese), a fictional account of the evictions in the favelas that preceded the 2016 Olympic Games. I was glad to see my city represented on a Dutch film festival, especially by a movie that addresses such an urgent and relevant topic.

Directed by Marina Meliande, Sultry combines social realism with horror to tell the story of Ana, a public defender who advocates for the residents of the community Vila Autódromo in a judicial battle to avoid their eviction. Vila Autódromo is a favela in Rio de Janeiro that became a symbol of resistance for fighting against the city government's plan to demolish several houses and build a road to the neighbouring Olympic Park. In the film, Ana is the intermediary between Vila Autódromo's inhabitants – played by actual locals and activists – and corrupt politicians. In the meantime, she is fighting an intense heatwave in the city and her own removal from the building where she lives, which was bought by a hotel chain. With all the tensions around her, Ana develops an intense rash, which – spoiler alert – metaphorically connects her annoyance with the heat, her helplessness with the social and political scenario of Rio, and her attachment to the places where she transits.

Although the Kafkaesque skin disease gains prominence as one of the most intriguing aspects of the plot, Sultry manages to give a very thoughtful account of the governmental negligence that has historically affected Rio's favelas. According to Amnesty International, Vila Autódromo's residents were victims of human rights abuses, not only because of the forced evictions, but also for the brutal treatment they received by the police during peaceful protests, in which they were attacked with tear gas and rubber bullets, or even arrested. Despite not always explicitly portraying these events, Sultry is successful in letting the feelings of powerlessness and outrage bleed into its semi-fictionalized narrative. Filmed between March and April 2016, the movie could not show how this story concluded, though. Unfortunately, by the end of July only twenty out of 700 families stayed in the community, living in government-built houses and enduring power cuts and interruption of services such as rubbish collection along the way. Besides Vila Autódromo, Sultry also addresses the uncontrollable real estate speculation the Olympics generated with Ana's own housing problems. With this, it hints at how different social classes in the city were differently affected by the Olympics, and somehow differently treated by the authorities in this transitional period.

Watching Sultry at IFFR helped me to reconnect with my city, and I cannot deny that I was proud to see a Brazilian director being acclaimed in the Netherlands. Above all, it was refreshing to see a fiction drama bringing urgent issues about Rio to wider audiences, and with such sensitivity. The movie has its pitfalls – the unnecessary "CGI-ed" final scene being the main one, in my opinion – but these do not compromise its overall relevance. Following other socially engaged Brazilian movies such as The Second Mother (2015) and Aquarius (2016), Sultry demonstrates how the favelas can be represented in other ways rather than action-fuelled productions of which City of God (2002) and Elite Squad (2007) are remarkable examples. Hopefully many more films like Sultry will come – not only to appease my nostalgia, but more importantly to raise awareness about the social struggles in Brazil.