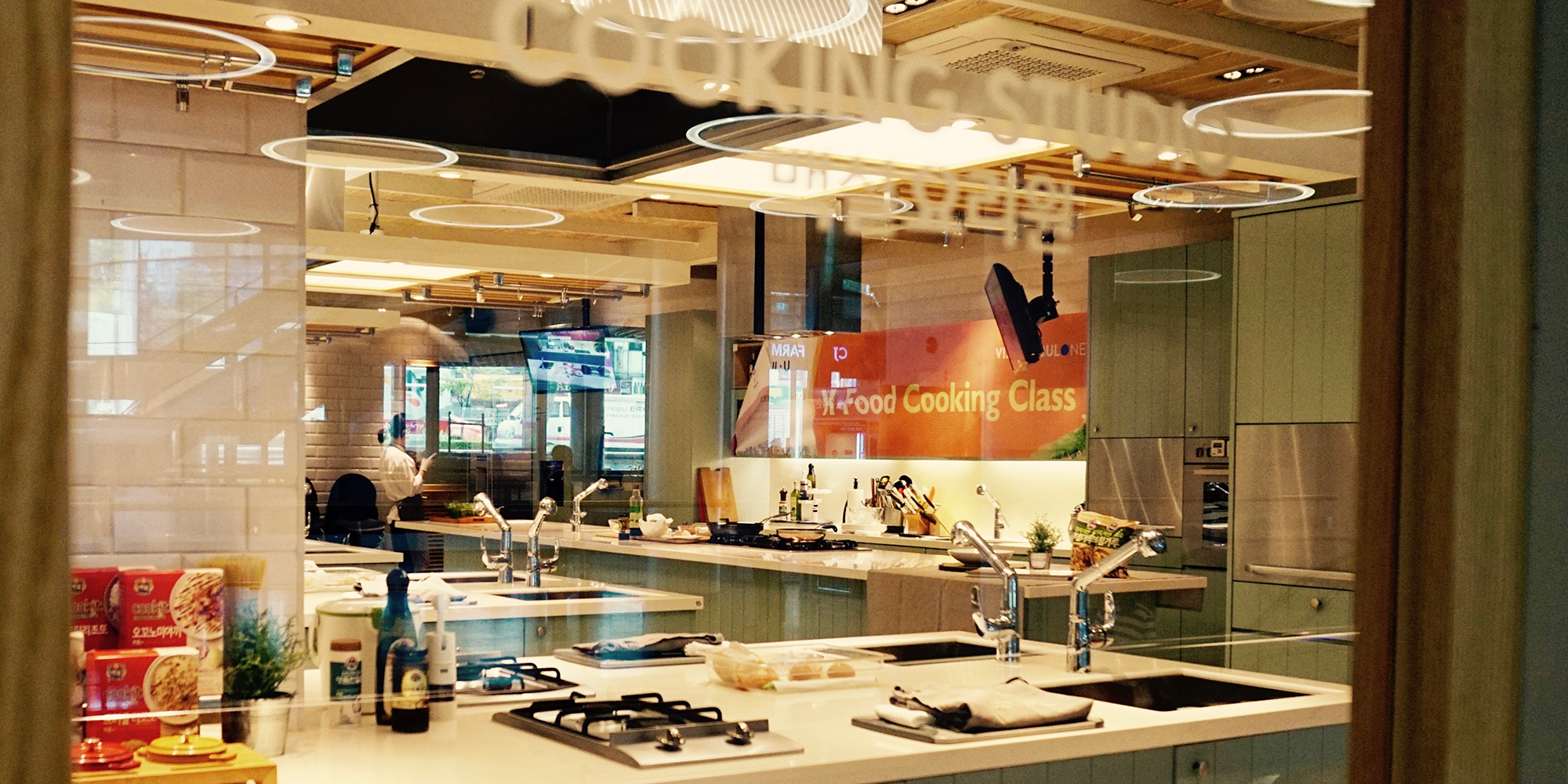 01 Aug

Yup, K-food

Blog by Henry Chow

This summer I'm off to South Korea for my fieldwork, and one of the first things I ended up doing was to go to a cooking class. Not just any other cooking class though, but one with an official stamp. As part of its Hallyu ('Korean wave') Experience Program, Seoul's tourism organisation offers (often free) tours and classes related to popular culture familiar to foreigners, like K-pop, drama, and, in this case, food. An officiated marriage between culture and tourism that's not to be missed.

I arrive at the ridiculously picture-perfect cooking studio, located on the ground floor of CJ Center. Lynn, event organiser and live interpreter of the day, welcomes us to this collaboration between the Seoul Metropolitan Government and CJ Group, and introduces the two dishes we'll be making today: bulgogi rice, a dish of thinly sliced beef with eggs and vegetables, and jeon, fried pancakes. Jeon is a great dish to make on rainy days, Lynn explains: "The sound of jeon frying in the pan is just like that of raindrops hitting the roof."

CJ Group may be less known internationally than its former parent Samsung, but exporting sugar (CJ stands for Cheil Jedang, or 'First Sugar Manufacture') was actually one of Samsung's earliest businesses back in South Korea's First Republic period. Nowadays, CJ makes many more foods than sugar and flour, owns a range of restaurant brands, in addition to sizeable logistics, retail, pharmaceutical and entertainment arms. It is an important player on the Korean film production and distribution scene, and its subsidiary CGV operates more than 400 movie theatres, mostly in Asia.

But food is what's under the spotlight today, and CJ has gone through the trouble of engineering food products that are simple to use and ready for purchase at your nearest supermarket. Products that will feed a generation of young urban professionals – yup, us, who have been highly educated for typing in front of screens, but hopelessly deskilled in the kitchen.

We have the privilege of having celebrity chef Kim Jung-eun (in fact, inconveniently sharing the name of the North Korean leader) demonstrate the deceivingly simple steps to make bulgogi rice and jeon pancakes. Korean cuisine features a lot of vegetables in thin strips, and, quite logically, incredible knife work that I can only gawp at. We sit in silent admiration and apprehension, while Chef Kim calmly dissembles a potato into strips five times the original volume. She kindly lowers the bar set for us: "When you are doing it, just leave the end of the potato – if you're not good with the knife, you might cut yourself."

Thanks to the ready-made sauces, even we amateurs are able to make the dishes in the allotted hour. It's a bit like MasterChef or Bake Off in reverse, where, instead of a risky quest of technical sophistication, we demonstrate the overwhelming impossibility of messing up. The bulgogi marinade comes out of a bottle, sparing us the measurements of sesame oil, soy sauce, and certain secret spices. Making maesil-cheong, a distinct sweet-sour plum syrup that takes months to mature, obviously takes an amount of know-how far beyond my reach. Reassuringly, Lynn offers the logics of efficiency and modernity to our rescue. "My mum's generation would make it themselves, but it takes a lot of time. For the young generation, it's easier to use the bulgogi sauce." Chef Kim does use her own homemade maesil-cheong though, and it looks enticingly authentic in an unlabelled glass jar with the bobbling tiny plums. But I'm not a chef. My shame of cultural ineptitude briefly subsides.

My only objection comes with the microwavable pre-cooked rice. Rice I can make, and that gives me the right to yammer at the little plastic single-serve portions. It's probably not even the rice itself: it is a little too sticky, but I've definitely made worse rice with my decidedly traditional electric rice cooker. The flimsy white plastic bowl is just a touch too reminiscent of undignified economy-class plane food. Something for the food engineer-marketeers to work on there.

With the possibility of failure taken out of our hands, we complete the preparation of our two-course lunch with resounding success, and retire to the dining room to savour our creations. The food's gotten a little cold, but that's a fair price to pay for the ample photo opportunities we have gotten. My plating of the bulgogi rice is more street eatery casual than Buddhist temple zen, but it's pretty edible I'd say. I come away with a full stomach, some cultural education, and the comforting knowledge that there are limits to my general embrace of instant foods. Not bad for a first day.

More information on the cooking class (courtesy of the organiser)
'K-Food Cooking Class' is operated by Seoul Metropolitan Government, and is a part of the Hallyu (Korean Culture) Program in K-POP, K-Food, Korean Drama, and K-Beauty (Makeup & Styling). The concept of program is to provide participants with Korean food that appears in TV entertainment programs or Korean dramas such as 'Yoon's Kitchen' or 'Goblin'. Many tourists are aware of some Korean food because of the popularity of Korean dramas, and they want to try the foods shown on TV. By offering tourists some Korean food that appeared on TV, Seoul Metropolitan Government are to increase the tourists' satisfaction and stimulate more potential tourists to visit Seoul in the long term.